A magical day that happens once in a lifetime. Let Jack & Company provide a meal that will be remembered forever! At Jack & Company Catering, we ensure catering an engaged couple's special day is something we do often and with great pride – we do not take that honour lightly.
Contact us today and we can start customizing your unique wedding menu.
Wedding tastings available upon request!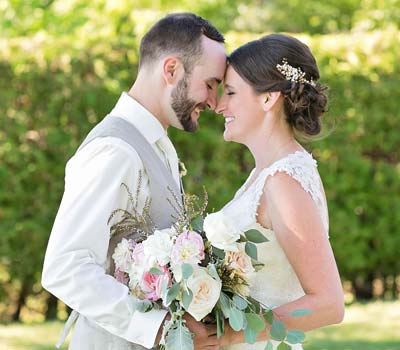 With peanut dipping sauce

Tropical Mango Spring Rolls

With avocado dipping sauce

Mini Meat & Black Bean Sliders

With cheese, lettuce, pickles & chipotle mayo

With goat cheese, fresh basil & balsamic reduction

Caramelized Onion, Mushroom & Gruyere Tartlets

Mini Guacamole & Shrimp Tostadas

With whipped eggplant and crispy chickpeas
Fig & Prosciutto Flatbread

With goat cheese & balsamic reduction

Caramelized Apple & Sage Sausage Rolls

With chipotle black bean purée

With marinara, mozzarella & fresh basil
Assortment of cured meats, cheeses, olives, nuts and bread

Variety of cheeses with fresh fruit and crackers

Roasted red pepper & feta dip, fresh tzatziki & sweet potato hummus, served with warm naan bread
Spicy cheese dip with red & green peppers, jalapeños and shredded chicken, served with tortilla chips

Sweet & spicy strawberry salsa, cookie dough hummus & chocolate avocado dip, served with tortilla chips

Reese's Peanut Butter Cheesecake Dip

Filled with peanut butter goodness; served with apples & graham crackers
Slow-Roasted Roast Top Sirloin

Served with mushroom gravy and your choice of vegetables

Chicken Supreme Wrapped with Prosciutto

Served with lemon and rosemary pan jus

With a rose sauce, grilled chicken, grilled vegetables, goat cheese and fresh basil

Greek Marinated Barbecue Chicken

With homemade tzatziki

Bacon & Apple Stuffed Barbecue Pork Loin

Topped with a grainy mustard & cider reduction
Whiskey and Maple Grilled Salmon

Topped with pineapple and mango salsa

With whiskey peppercorn sauce

Slow-Roasted Barbecue Ribs

With our sweet barbecue sauce


*Served with your choice of two salads, two sides, fresh rolls, tea & coffee*
With feta, fresh basil and a balsamic reduction

Southwestern Couscous Salad

Black Bean and Mango Salad

With a chili lime vinaigrette

Tomato, Cucumber, Red Onion, Basil and Goat Cheese Salad

With a balsamic reduction
With poppy seed vinaigrette

Greek Bow Tie Pasta Salad

Red Cabbage and Kale Salad

With cranberries, Brussels sprouts, broccoli and pumpkin seeds with a poppy seed dressing

Mixed Berry & Candied Pecan Salad

With mixed greens, goat cheese, candied pecans and a maple balsamic dressing
Creamy Garlic Mashed Potatoes

With chive and dill sour cream
Double-Stuffed Cheddar & Broccoli Baked Potatoes

Available from August to September
Served with garlic mashed potatoes, green beans, mushroom gravy and rolls

Chicken Supreme Wrapped with Prosciutto

Served with lemon, rosemary pan jus, roasted fingerling potatoes and honey-glazed carrots

Bacon & Apple Stuffed Barbecue Pork Loin

Topped with a grainy mustard & cider reduction, served with double-stuffed cheddar & broccoli baked potatoes and roasted root vegetables

Whiskey & Maple Grilled Salmon

Topped with pineapple and mango salsa, served with herbed basmati rice and grilled vegetables
Grilled Strip Loin with Whiskey Peppercorn Sauce

Served with roasted fingerling potatoes and grilled vegetables

Braised Short Ribs with Red Wine Reduction

Served with garlic mashed potatoes and honey-glazed carrots

With a rose sauce, grilled chicken, grilled vegetables, goat cheese and fresh basil


*Served with your choice of two salads, fresh rolls, tea & coffee*
Gourmet Grilled Cheese Station
PLATED FOUR-COURSE DINNER
Fig and prosciutto flatbread with goat cheese and balsamic reduction

Mixed berry & candied pecan salad, with mixed greens, goat cheese and a maple balsamic dressing

Slow-roasted top sirloin, served with garlic mashed potatoes, green beans and mushroom gravy

Mini New York-style cheesecake
Tropical mango spring rolls with avocado dipping sauce

Strawberry spinach salad with poppy seed dressing

Chicken supreme wrapped with prosciutto, served with lemon, rosemary pan jus, fingerling potatoes and honey-glazed carrots

Mini strawberry shortcake trifles
Roasted butternut squash & apple soup

Mixed berry & candied pecan salad, with mixed greens, goat cheese and a maple balsamic dressing

Bacon & apple stuffed barbecue pork loin, topped with a grainy mustard & cider reduction; served with double-stuffed cheddar & broccoli baked potato and grilled vegetables

Blueberry cupcakes with lemon cream cheese icing
Mini crab cakes with remoulade

Mixed berry & candied pecan salad, with mixed greens, goat cheese and a maple balsamic dressing

Whiskey and maple grilled salmon, topped with pineapple and mango salsa; served with herbed basmati rice and grilled vegetables

Classic butter tart with French vanilla ice cream and caramel sauce
Papaya and berry salad with chili lime vinaigrette

Fig and prosciutto flatbread with goat cheese and balsamic reduction

Grilled strip loin with whiskey peppercorn sauce, with fingerling potatoes and grilled vegetables

Mini peanut butter mousse and chocolate trifle
Watermelon salad with feta, fresh basil and a balsamic reduction

Mini crab cakes with remoulade

Braised short ribs with red wine reduction, served with garlic mashed potatoes and honey-glazed carrots

Strawberry shortcake cupcakes
Jicama, apple, pancetta and spinach salad with honey Dijon dressing

Strawberry bruschetta with goat cheese, fresh basil and a balsamic reduction

Potato gnocchi with a rose sauce, grilled chicken, grilled vegetables, goat cheese and fresh basil